About HFMSNJ
Founded in 1949, we are the professional organization of healthcare facility managers of New Jersey. The focus of our monthly meetings is education and the professional development of each member. Towards that end we conduct regular training seminars and host other events to improve our skills. We have expanded our membership to include licensed professionals and professional associates who provide engineering, architectural services and products to our institutions.
---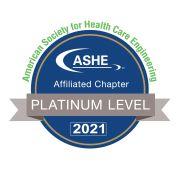 Meetings & Events
This presentation reviews the following three components from the applicable codes and reference standards utilized for medical gas systems:  
1. Risk Categories and Their Requirements
2. Medical Gas Valves and Their Placement
3. Medical Gas Equipment and Their Alarms
SPEAKER: Kate O'Shea, Senior Project Engineer
Jaros, Baum & Bolles (JB&B)
Learn More Apr. 20: Introduction to Medical Gas Distribution, Alarms and Manifolds
LOCATION:
Hilton East Brunswick Hotel & Executive Meeting Center
3 Tower Center Boulevard
East Brunswick, NJ 08816
DATE & TIME: 
Thursday, June 15, 2023
7:30 AM- 4:00 PM
NOTE: 9 POTENTIAL CEU'S AVAILABLE!!
News
As winner of this year's American Society for Health Care Engineering (ASHE) Crystal Eagle Award, James A. Shoemaker, BSME, MA, FASHE, possesses a wealth of knowledge about the field. This month, he talks with HFM about his career and years of service in leadership roles within ASHE as well as in his local chapter.
Continue Reading ASHE Crystal Eagle Award, James A. Shoemaker
Sponsors